Раскройте скрытые возможности некоторых компьютерных игр с помощью чит-кодов и мануалов по прохождению игр на PC.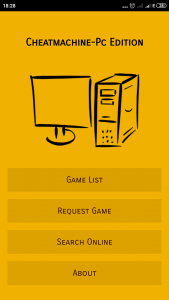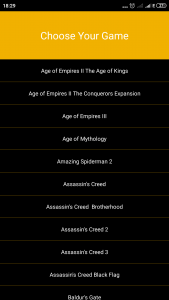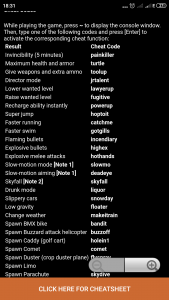 PC Games' Cheatbook — это специальная программа с большой колекцией чит-кодов на вашем телефоне. Приложение имеет огромную базу игр, которой можно пользоваться даже без интернета. Также в приложении есть возможность искать игру по онлайн базе игр, но для этого необходимо иметь интернет.
Сейчас в приложении вы сможете найти чит-коды и разные мануалы к таким играм:
Age of Empires II The Age of Kings
Age of Empires II The Conquerors Expansion
Age of Empires III
Age of Mythology
Amazing Spiderman 2
Assassin's Creed
Assassin's Creed Brotherhood
Assassin's Creed 2
Assassin's Creed 3
Assassin's Creed Black Flag
Baldur's Gate
Baldur's Gate II Shadows of Amn
Baldur's Gate II Throne of Bhaal
Bastion
Batman Arkham Asylum
Batman Arkham City
Battlefield 1
Battlefield 2
BioShock 1
BioShock 2
BioShock Infinite
Borderlands
Borderlands 2
Borderlands Pre Sequel
Bully
Burnout Paradise The Ultimate Box
Call of Duty 2
Call of Duty 4 Modern Warfare
Call of Duty 4 Modern Warfare 2
Call of Duty 5:World At War
Call of Duty Black Ops
Call Of Duty Black Ops 2
Call Of Duty Infinite Warfare
Call Of Duty Modern Warfare 3
Counter Strike Global Offensive
Counter-Strike Source
Counter-Strike Condition Zero
Crossfire
Crysis
Crysis 3
Crysis War Head
Dark Souls II
Dark Souls III
Dead Space II
Delta Force 4:Black Hawk Down
Deus Ex Human Revolution
Devil May Cry 4
Dishonored
Dishonored 2
Dota 2
Dying Light
Fable-3
Fallout 3
Fallout 4
Fallout New Vegas
Far Cry 1
Far Cry 2
Far Cry 3
Far Cry 4
Five Nights At Freddy's 1
Five Nights At Freddy's 2
Gears of War
Gears Of War 4
Grand Theft Auto San Andreas
Grand Theft Auto Vice City
Grand Theft Auto III
Grand Theft Auto IV
Grand Theft Auto V
Grid
Guitar Hero 3
Half Life
Half-Life 2
Half-Life 2 Episode One
Half-Life 2 Episode Two
Halo
Hitman 2 Silent Assassin
Hitman:Absolution
Hitman:Blood Money
Hitman:Contracts
Hulk
IGI 2
Just Cause
Just Cause 2
Just Cause 3
Left 4 Dead
Left 4 Dead 2
Lego City:Undercover
Lego The Lord Of The Rings
Mafia
Mafia 2
Mafia 3
Mass Effect
Mass Effect 2
Mass Effect 3
Max Payne
Max Payne 2 The Fall of Max Payne
Max Payne 3
Metal Gear Rising Revengeance
Metro : Last Night
MiddleEarth : Shadow of Mordor
Minecraft
Mortal Kombat Komplete Edition
NBA 2005
Need for Speed Hot Pursuit 2
Need For Speed Carbon
Need For Speed Most Wanted
Need For Speed Most Wanted 2012
Need For Speed Undercover
Need For Speed Underground
Need For Speed Underground 2
Never Winter
No Man's Sky
Outlast
Painkiller
Payday 2
Plants vs Zombies
Portal
Portal 2
Prince of Persia The Sands of Time
Prince Of Persia 2008
Prince Of Persia:The Forgotten Sands
Prince Of Persia:The Two Thrones
Prince Of Persia:Warrior Within
Prototype
Prototype 2
Psychonauts
Resident Evil 2
Resident Evil 4
Return To Castle Wolfenstein
Rome:Total War
Saints Row : The Third
Saints Row II
Saints Row IV
Sleeping Dogs
Sniper Ghost Warrior
South Park : The Stick of Truth
Spider Man
Spore:Creature Creator
Star Wars : Force Unleashed 2
Star Wars : KOTOR 2
Star Wars : Empire At War
Star Wars : Empire At War Forces Of Corruption
Stardew Valley
Team Fortress 2
Terraria
The Elder Scrolls IV : Oblivion
The Elder Scrolls V : Skyrim
The Forest
The Sims 2
The Sims 3
The Sims 4
The Witcher 2 Assassins of Kings
Thief 2014
Tom Clancy's Splinter Cell Chaos Theory
Tomb Raider 2013
Tony Hawk's Pro Skater 3
Tony Hawk's Pro Skater 4
Torchlight 2
Total Overdose
TowerFall Ascension
Trials:Fusion
Undertale
Vcop 2
Wanted:Weapons of Fate
Warcraft III Reign of Chaos
Warcraft III The Frozen Throne
Watch Dogs
Watch Dogs 2
World Of Warcraft
Xcom 2
X-Men Origins:Wolverine
Zoo Tycoon 2
Рейтинг
Нажмите на звезду, чтобы поставить оценку
Средний рейтинг / 5. Количество оценок:
Пока нет оценок! Будьте первым, кто оценит этот пост.
Скачать PC Games' Cheatbook для Android


Бесплатно
Загрузка начнется через
10
секунд